Star Tropics: Lost World LP (Shelflife Records)
Release date:
July 7, 2017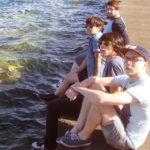 Star Tropics

72.53 MB
Enter Correct Password to Download
Bio: Following the two fantastic singles that the band has put out in the past, Shelflife (US) and Fastcut Records (Japan) are incredibly excited to be releasing the debut full-length by Chicago's Star Tropics. Lost World cements the band's pop songwriting prowess, and its nine tracks all have equal likelihood of ending up ingrained in your brain.. Formed after a chance meeting thanks to an early Smiths b-side, Star Tropics have been playing shows since 2012, including a performance at the 2013 NYC Popfest. Their previously released singles "By My Side" (b/w "Tempest") and "Summer Rain" (b/w "Swept Away") have established Star Tropics as a group that fans of dreamy, jangly pop need to keep their eyes on. With Lost World, the band is here to show established followers and newly earned fans alike that their talent isn't just confined to singles. Featuring "Summer Rain" seated comfortably beside eight new songs, the album sees Star Tropics perfecting their already sharpened craft. The band has said that their sound can be characterized as "equal parts celebratory and introspective," a description that holds truer than ever on the new LP. "Windfall," the album's first track (and only instrumental), wastes no time in enveloping the listener in warm nostalgia. Lush guitars are painted over with a Rickenbacker lead and refreshingly melodic bassline; all of which are sounds that the group employs beautifully throughout Lost World as a whole. Like many smart bands, though, Star Tropics don't play all their cards right off the bat. It's not until the third track, "Another Sunny Day," that we hear the tandem vocals of guitarist Nikki and bassist Loren in full effect. The gentleness of their voices blend together beautifully, a strength that the band is acutely aware of. "All The Way To Heaven" sees them both trade off and join together on vocal duties in a way that brings to mind English indie-poppers Veronica Falls. Lost World is packed with captivating guitar leads and melodies, equally jangly and shimmering, that provide the perfect palette on which Nikki and Loren can mix even more infectious vocal colors. Even when they opt for the solo vocals, like Nikki's on album centerpiece "Sparrow," these songs shine. Star Tropics have created something memorable with Lost World, and it will be stuck with you long after listening, whether you like it or not—but we're willing to bet on the former.