Typical Girls 3 & 4: LP (Emotional Response Records)
Release date:
February 8. 2018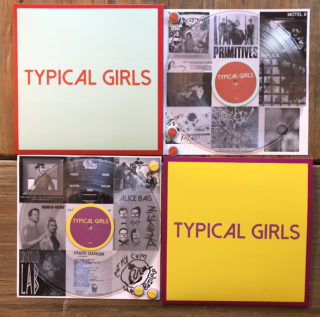 Bio: "Typical Girls, a wink and a nod to the Slits, of course, but more than that, a celebration of the completely untypical, totally non-singular, wildly amazing femme punk sounds featured on this compilation series from Emotional Response Records. Born from the observation that femme/female-fronted punk often goes unnoticed, or is dismissed as novelty, Typical Girls seeks to subvert the cliches of male-dominated punk with non-male voices. Fresh, exhilarating, vibrant and diverse, femme/female-fronted punk is not a genre, it is a medium. Each volume of Typical Girls gathers the moment's fiercest, crucialist radical DIY pop, hardcore, and experimental punk".

Emotional Response continue their quest to highlight the finest in current female fronted punk, post-punk, hardcore and indie. Following on from the two previous vibrant volumes of Typical Girls, Emotional Response was quickly presented with a wealth of staggeringly high quality material. Rather than sit on tracks, or exclude material that the world needed to hear, it was feverishly decided to release two new breath-taking volumes simultaneously (Volumes 3 & 4). Essential listening. Enjoy!