Wedding Present: Locked Down & Stripped Back, Vol. Two LP (HHBTM Records)
Release date:
July 1, 2022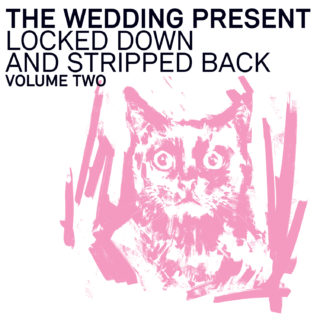 Bio: HHBTM Records and Scopitones will release Locked Down And Stripped Back Volume Two by The Wedding Present on 1 July 2022.

Locked Down And Stripped Back Volume Two features home recordings of Wedding Present and Cinerama classics, along with a previously unreleased song: 'That Would Only Happen In A Movie'.

There is a bevy of guest stars on the album. Jon Stewart [of Platinum-album-selling Sleeper fame] reprises his new role as Wedding Present guitarist but is joined here by some Wedding Present members of old. Peter Solowka, from the band's first line-up appears on 'Nobody's Twisting Your Arm' playing his second instrument, the accordion, while Hit Parade guitarist Paul Dorrington contributes to a re-working of the Top 30 single 'Blue Eyes'. Long-time Wedding Present and Cinerama bass player Terry de Castro returns to infuse the album with her own unique style, while current Wedding Present bass player Melanie Howard takes over the lead vocal duties on a beautiful version of 'At The Edge Of The Sea'. Last, but certainly not least, Amelia Fletcher – backing vocalist on George Best and Bizarro – also returns to the party!

As on the first volume, each musician recorded and filmed their parts at home and, as before, it is fascinating to see how stripped-back arrangements bring out different aspects of these brilliant songs.