Athens Intensified:
Release date:
September 11, 12, 13, & 20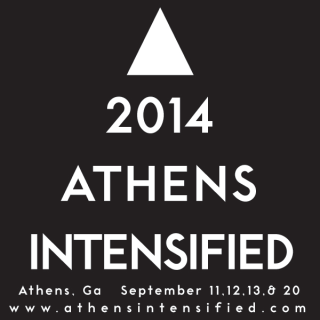 Bio: The 2014 Athens Intensified will take place September 11, 12, 13, & 20 in beautiful downtown Athens, Georgia. Now in its third year, the festival is undertaking its most ambitious lineup yet. It has expanded from two nights in a single venue to four nights across two weekends in five venues. This year's headliners are Atlanta's forceful and poignant rapper Killer Mike (9/12), New York's dreamy and quirky Cibo Matto (9/13) and LA's legendary MC, DJ and producer The Egyptian Lover (9/20).

Saturday afternoon (9/13), we'll be closing down a block of downtown Athens in front of the world famous 40 Watt Club for our inaugural skateboard exhibition and competition. This portion of Athens Intensified is free to attend for everyone and is coordinated with Get Rad Skate Shop of Athens as well as other regional skate shops.

The overarching booking principle of Athens Intensified is that the organizers must be actual fans of the bands/artists presented. This keeps us rooted in what we do and rooting for the artists themselves. To this end, the undercard of Athens Intensified is filled with artists spanning the genres of EDM, garage rock, dream pop, roots country, hip-hop, punk, hardcore and more. The way we describe it is "wide in scope but narrow in focus." That is, we are fans of a broad spectrum of sounds but quite specific in our enthusiasm. We think this year's ineup is pretty spectacular.

Notable acts performing this year are Faster Circuits (Cloud Recordings) -- the brainchild of Derek Almstead (Olivia Tremor Control, Circulatory System), Frost The Wave God (Orlando, FL), Babes (New Orleans), Dola (Jacksonville, FL), What Moon Things (New Paltz, NY) and Genders (Portland, OR). Additionally, we are super proud to present Blue Blood, T. Hardy Morris & The Hardknocks (who will be just off a tour with Deer Tick), Mothers, Magicicada (Atlanta, GA), Shantih Shantih (Atlanta, GA), Muuy Biien, Eureka California, Tunabunny, Deep State, Bows and Arrows, The Powder Room, Shoal Creek Stranglers, WesdaRuler, Matt Hudgins and many more. Over fifty artists will play this year's event. Please see athensintensified.com/lineup for more information.

We're also psyched to partner this year with SpokesBUZZ in promoting BandSwap. This national event will land in Athens September 19 & 20 and feature an industry mixer, live performances by BandSwap artists and a shared interest in encouraging and actively supporting local music around the nation.

Full event passes (including Cibo Matto's performance) are $35, without Cibo Matto they're $30. Individual tickets for Killer Mike are $15, Cibo Matto $16 and The Egyptian Lover $10. Tickets are available now via athensintensified.com/tickets and in person at Wuxtry Records in downtown Athens, GA. Hope to see you there!

We have festival passes for places planning pre-coverage and for sites or publications that are planning post festival live review or wrap up coverage. The festival organizers are available for interview as are most artists. Please feel free to get in touch for press photos, logos, the full line up, schedule, and any exclusive content like playlists.